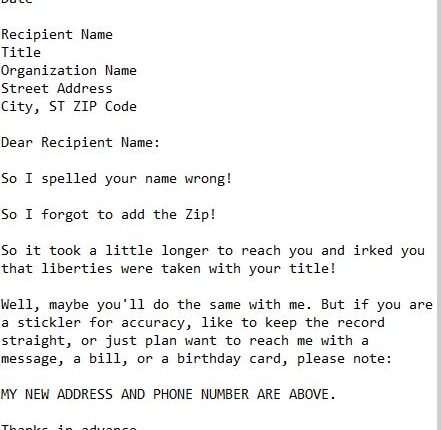 Letter To Customers Announcing Change Of Address
Below is sample letter to customers announcing change of address :
Your Name
Company Name
Street Address
City, ST ZIP Code
Date
Recipient Name
Title
Organization Name
Street Address
City, ST ZIP Code
Dear Recipient Name:
So I spelled your name wrong!
I may forget to add the Zip!
So it took a little longer to reach you and irked you that liberties were taken with your title!
Well, maybe you'll do the same with me. But if you are a stickler for accuracy, like to keep the record straight, or just plan want to reach me with a message, a bill, or a birthday card, please note:
MY NEW ADDRESS AND PHONE NUMBER ARE ABOVE.
Thanks in advance,
Sincerely,
Your Name
Want to learn more similar topic about letter to customers announcing change of address? Below are related examples :