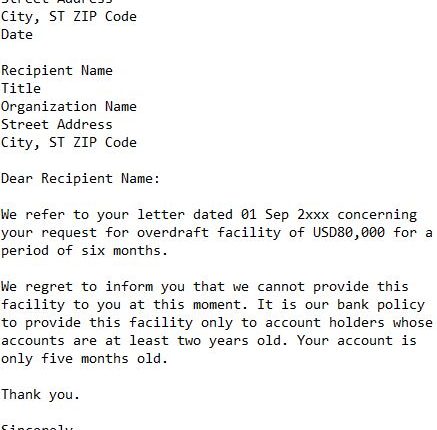 Letter Refusing To Provide Overdraft Facility
Below is sample letter refusing to provide overdraft facility :
Your Name
Company Name
Street Address
City, ST ZIP Code
Date
Recipient Name
Title
Organization Name
Street Address
City, ST ZIP Code
Dear Recipient Name:
We refer to your letter dated 01 Sep 2xxx concerning your request for overdraft facility of USD80,000 for a period of six months.
We regret to inform you that we cannot provide this facility to you at this moment. It is our bank policy to provide this facility only to account holders whose accounts are at least two years old. Your account is only five months old.
Thank you.
Sincerely,
Your Name
Want to learn more similar topic about letter refusing to provide overdraft facility? Below are related examples :