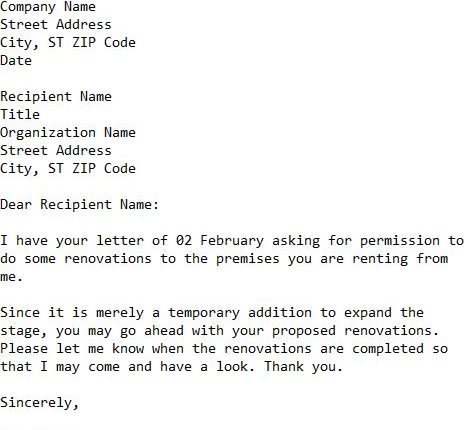 Letter Giving Permission To Tenant To Renovate Premises
Below is sample letter giving permission to tenant to renovate premises :
Your Name
Company Name
Street Address
City, ST ZIP Code
Date
Recipient Name
Title
Organization Name
Street Address
City, ST ZIP Code
Dear Recipient Name:
I have your letter of 02 February asking for permission to do some renovations to the premises you are renting from me.
Since it is merely a temporary addition to expand the stage, you may go ahead with your proposed renovations. Please let me know when the renovations are completed so that I may come and have a look. Thank you.
Sincerely,
Your Name
More landlords and tenants letters
Want to learn more similar topic about letter giving permission to tenant to renovate premises? Below are related examples: