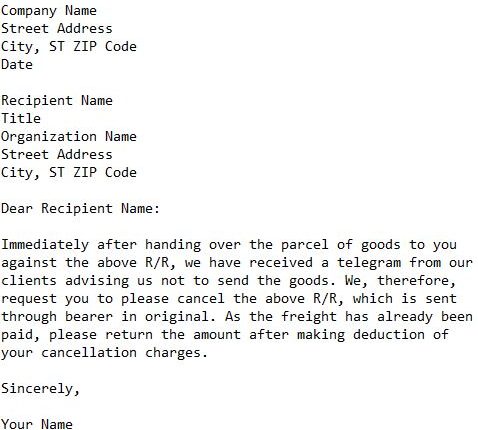 Letter Asking The Railway Authorities To Cancel Railway Receipt
Below is sample letter asking the railway authorities to cancel railway receipt :
Your Name
Company Name
Street Address
City, ST ZIP Code
Date
Recipient Name
Title
Organization Name
Street Address
City, ST ZIP Code
Dear Recipient Name:
Immediately after handing over the parcel of goods to you against the above R/R, we have received a telegram from our clients advising us not to send the goods. We, therefore, request you to please cancel the above R/R, which is sent through bearer in original. As we have already paid the freight, please return the amount after making deduction of your cancellation charges.
Sincerely,
Your Name
Related Examples :