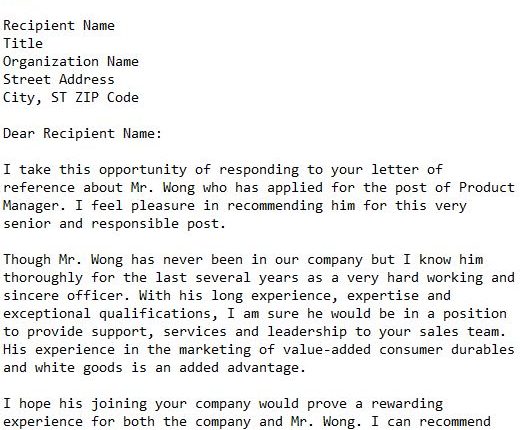 Letter of Recommendation For The Position of Product Manager
Below is the sample letter of recommendation for the position of product manager :
Your Name
Company Name
Street Address
City, ST ZIP Code
Date
Recipient Name
Title
Organization Name
Street Address
City, ST ZIP Code
Dear Recipient Name:
I would like to take this opportunity of responding to your letter of reference about Mr. Wong who has applied for the post of Product Manager. I feel pleasure in recommending him for this very senior and responsible post.
Though Mr. Wong has never been in our company but I know him thoroughly for the last several years, He has been a very hard working and sincere officer. With his long experience, expertise and exceptional qualifications, I am sure he would be in a position to provide support, services and leadership to your sales team. His experience in the marketing of value-added consumer products and white goods is an added advantage.
I hope with him joining your company would prove a rewarding experience for both the company and Mr. Wong. I can recommend him to you with much confidence.
Sincerely,
Your Name
Related Examples: