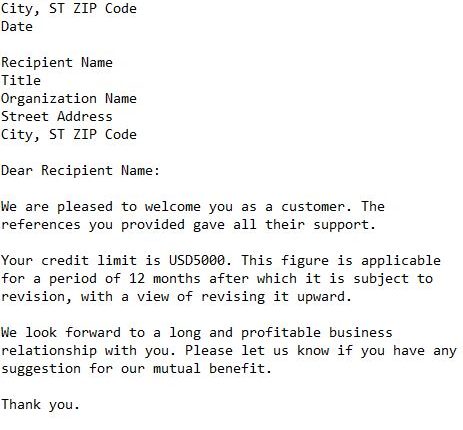 Letter Of Credit From Bank
Below is sample letter of credit from bank :
Your Name
Company Name
Street Address
City, ST ZIP Code
Date
Recipient Name
Title
Organization Name
Street Address
City, ST ZIP Code
Dear Recipient Name:
We are pleased to welcome you as a customer. The references you provided gave all their support.
Your credit limit is USD5000. This figure is applicable for a period of 12 months after which it is subject to revision, with a view of revising it upward.
We look forward to a long and profitable business relationship with you. Please let us know if you have any suggestion for our mutual benefit.
Thank you.
Sincerely,
Your Name
Want to learn more similar topic about letter of credit from bank? Below are related examples :