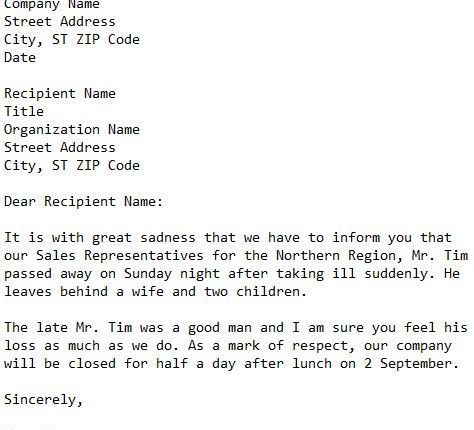 Letter Announcing Death Of Employee
Below is sample letter announcing death of employee :
Your Name
Company Name
Street Address
City, ST ZIP Code
Date
Recipient Name
Title
Organization Name
Street Address
City, ST ZIP Code
Dear Recipient Name:
It is with great sadness that we have to inform you that our Sales Representatives for the Northern Region, Mr. Tim passed away on Sunday night after taking ill suddenly. He leaves behind a wife and two children.
The late Mr. Tim was a good man and I am sure you feel his loss as much as we do. As a mark of respect, our company will be closed for half a day after lunch on 2 September.
Sincerely,
Your Name
Want to learn more similar topic about letter announcing death of employee? Below are related examples :