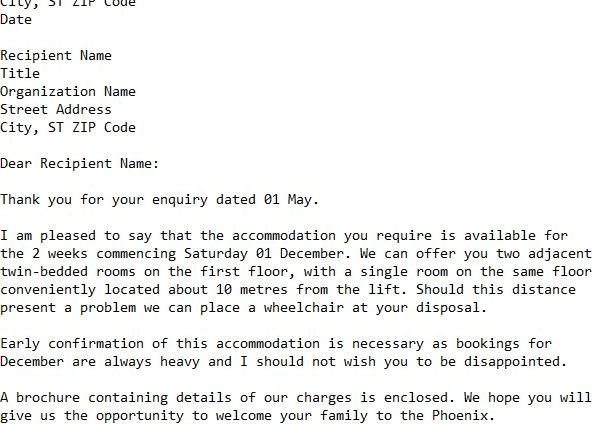 Sample Reply Email For Hotel Reservation
Below is sample reply email for hotel reservation :
Your Name
Company Name
Street Address
City, ST ZIP Code
Date
Recipient Name
Title
Organization Name
Street Address
City, ST ZIP Code
Dear Recipient Name:
Thank you for your enquiry dated 01 May.
I am pleased to say that the accommodation you require is available for the 2 weeks commencing Saturday 01 December. We can offer you two adjacent twin-bedded rooms on the first floor, with a single room on the same floor conveniently located about 10 metres from the lift. Should this distance present a problem we can place a wheelchair at your disposal.
Early confirmation of this accommodation is necessary as bookings for December are always heavy and I should not wish you to be disappointed.
A brochure containing details of our charges is enclosed. We hope you will give us the opportunity to welcome your family to the Phoenix.
Sincerely,
Your Name
More miscellaneous letters for travel 
Want to learn more similar topic about sample reply email for hotel reservation? Below are related examples :