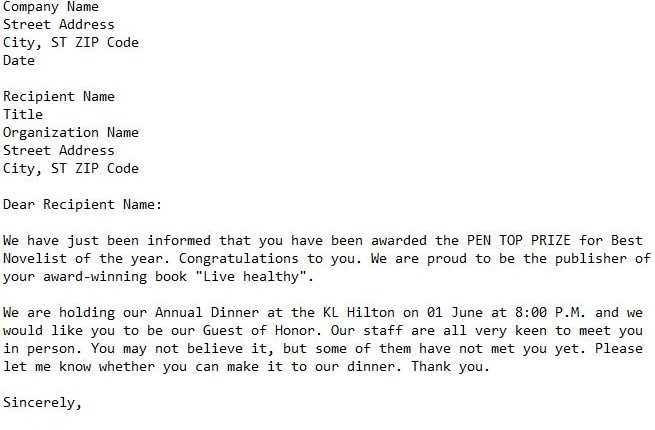 Congratulations Letter On Receiving An Award
Below is sample letter of congratulations on receiving an award :
Your Name
Company Name
Street Address
City, ST ZIP Code
Date
Recipient Name
Title
Organization Name
Street Address
City, ST ZIP Code
Dear Recipient Name:
We have just been informed that you have been awarded the PEN TOP PRIZE for Best Novelist of the year. Congratulations to you. We are proud to be the publisher of your award-winning book "Live healthy".
We are holding our Annual Dinner at the KL Hilton on 01 June at 8:00 P.M. and we would like you to be our Guest of Honor. Our staff are all very keen to meet you in person. You may not believe it, but some of them have not met you yet. Please let me know whether you can make it to our dinner. Thank you.
Sincerely,
Your Name
Related Examples: