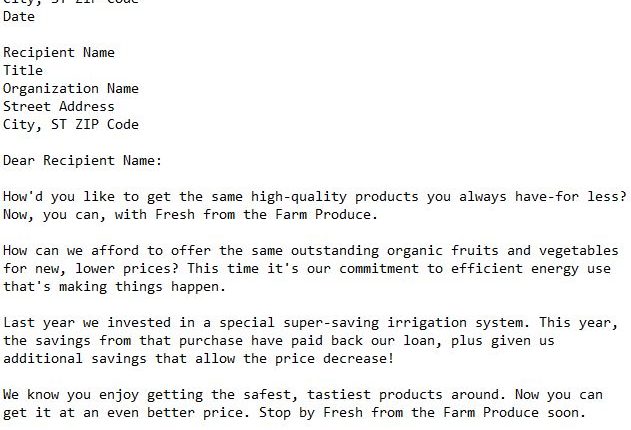 Announcing A Price Decrease Letter
Below is sample announcing a price decrease letter :
Your Name
Company Name
Street Address
City, ST ZIP Code
Date
Recipient Name
Title
Organization Name
Street Address
City, ST ZIP Code
Dear Recipient Name:
How'd you like to get the same high-quality products you always have-for less?
Now, you can, with Fresh from the Farm Produce.
How can we afford to offer the same outstanding organic fruits and vegetables
for new, lower prices? This time it's our commitment to efficient energy use
that's making things happen.
Last year we invested in a special super-saving irrigation system. This year,
the savings from that purchase have paid back our loan, plus given us
additional savings that allow the price decrease!
We know you enjoy getting the safest, tastiest products around. Now you can
get it at an even better price. Stop by Fresh from the Farm Produce soon.
Sincerely,
Your Name
Sales letters templates promoting product or service 
Want to learn more similar topic about announcing a price decrease letter? Below are related examples :