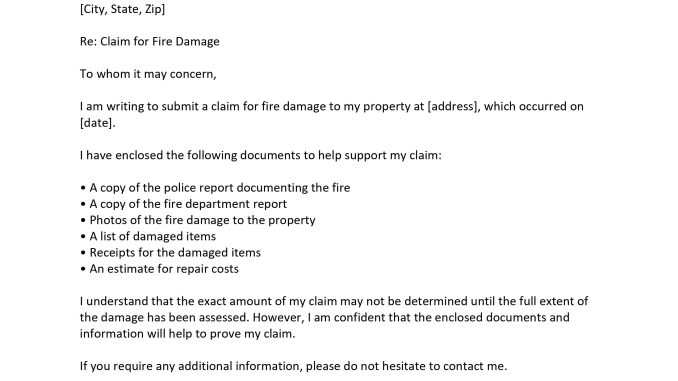 How to write a letter to insurance company for a fire claim? What are the steps to make a fire insurance claim? Below is the sample fire insurance claim letter :
[Date]
[Name of Insurer]
[Address]
[City, State, Zip]
Re: Claim for Fire Damage
To whom it may concern,
I am writing to submit a claim for fire damage to my property at [address], which occurred on [date].
I have enclosed the following documents to help support my claim:
• A copy of the police report documenting the fire
• A copy of the fire department report
• Photos of the fire damage to the property
• A list of damaged items
• Receipts for the damaged items
• An estimate for repair costs
I understand that the exact amount of my claim may not be determined until the full extent of the damage has been assessed. However, I am confident that the enclosed documents and information will help to prove my claim.
If you require any additional information, please do not hesitate to contact me.
Thank you for your prompt attention to this matter.
Sincerely,
[Your Name]
---
Below are steps in making fire insurance claim :
Contact your insurance company as soon as possible after the fire.
Provide the insurance company with all the necessary documents, such as photographs of the damage, an inventory of the items lost, and the police report, if applicable.
Provide an estimate of the total cost of repairs or replacements, if required.
Follow the instructions from the insurance company, such as where to send the documents or any other instructions they provide.
Negotiate with the insurance company to get the best possible settlement amount.
Sign and return claim forms and any other necessary documents.
Keep copies of all documents and correspondence related to the claim and track your claim progress.
Be aware of any deadlines for filing the claim and making repairs, as outlined in the insurance policy.
Want to learn more similar topic about fire insurance claim letter? Below are related examples: